Every girl in this world has a dream engagement ring and wedding. Teenagers (or even tweens) would dream of their own version of their Prince Charming, proposing to them with a 3-carat round brilliant cut diamond ring, and then walking down the aisle wearing a sweetheart cut lace gown in a church filled with tulips. Yep, each girl was that specific – except for me!
I grew up with Dexter's Lab and coding HTML on Notepad. I never had a dream wedding nor an engagement ring in mind. All I knew is that whoever I'm marrying in the future will have a say in our wedding. Hence, I don't want to plan anything until I have met the one I'm saying 'I do' to.
I met my jowa (boyfriend) back in 2014. We only got to really know each other and became a couple in 2016, due to timing. We were barely a year old when we started discussing about our future, and even then I didn't attempt to look for ring styles or wedding dressed on Pinterest. Whenever we'd talk about marriage or proposing, my jowa would always say, "I enjoy what we have right now". I took it as a signal that he wants to settle down eventually, but not yet soon. That didn't bother me at all, as I'm well into my twenties and I have a lot of things going on – a hidden talent just decided to pop out of myself after two decades, and dream businesses are slowly turning into reality. He only had one request, which was that time will be the last time we'll ever talk about proposals. He wanted me to be secure with the idea that he will do it – he just doesn't want to spoil the surprise factor to me.
Half a year passed and I told myself that he might propose to me in a year or two. Maybe in 2020; I really had no clue as to when it'll happen. My friends kept on bugging me about what ring I want to have for my engagement, and I would just shrug them off by saying "He won't propose soon, so I don't want to think about it yet". It's not that marriage isn't on my mind – it super is. I just didn't want to disappoint myself by waiting for that moment to happen. I know it will. But sometimes, you get anxious of waiting even if you know that it'll happen, you know? So that my anxiety won't go bonkers, I assumed that he will propose to me by the end of 2020.
But let me tell you a secret.
During this year's Chinese New Year's Eve celebration, we got to write down our wishes and goals and burned it right before the clock struck 12. One of the things that I wrote down was to settle down with my love by next year (which is 2020). I was quite vague because I didn't know if we'll be engaged by then or even married. Either way, that's still considered 'settling down'. I just became authentic with my wish and wrote it down.
One of my really good friends told me that if you want something and you believe you're ready for it, write it down and request for it. When I got into this relationship, marriage is on my mind. But I was thinking to myself that before I get married, I need to improve myself. I need to become the person that I want my jowa to propose to – strong, independent, mature, and displays unwavering love. I felt that I have evolved myself inside my own poke ball for quite some time and I am now ready – that's why I wished for it.
And now, I don't have a jowa anymore – I have a fiancé!
I didn't have a single hint about the proposal, nor did I even decide on what I want for my engagement ring. I left my fiancé (and my friends) to decide on that because I didn't grow up like all the girls in the world. And you know what? It turned out for the better! I let my fiancé design the ring and it's absolutely gorgeous. I didn't have my dream engagement proposal or ring to come to life because I didn't have any. I prefer it that way because I got what I wanted – my ultimate 'dream' that whoever I'm marrying will have a say in our wedding.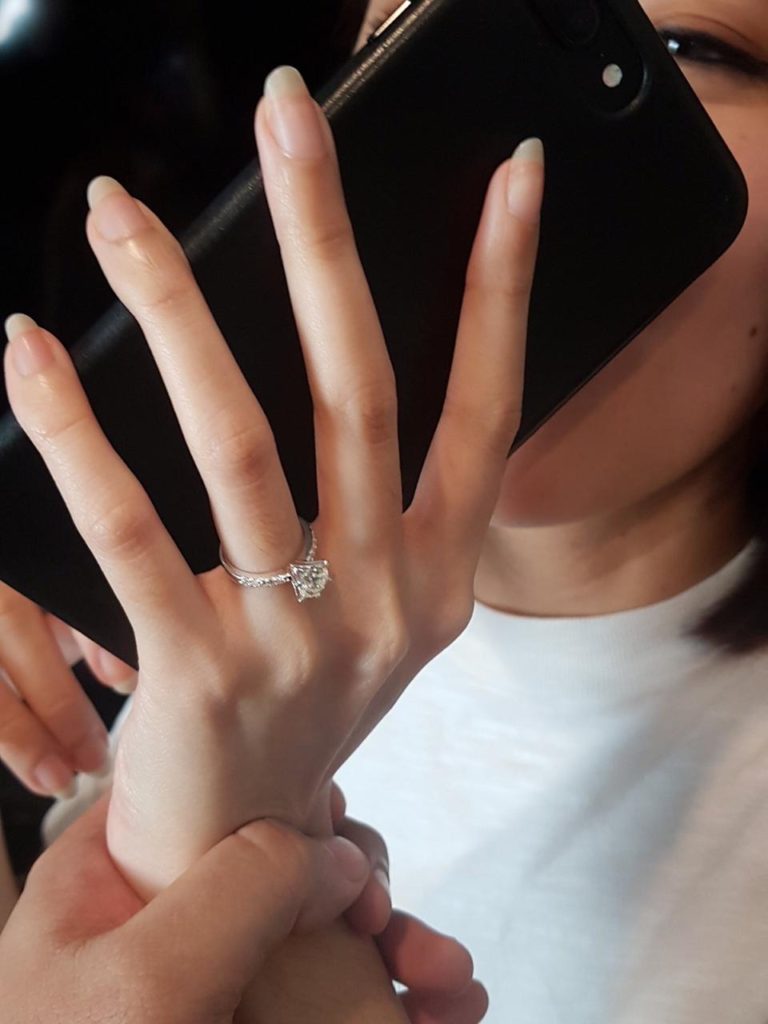 What I'm just trying to say is that, I'm just very grateful that everything fell into place at the right moment and time. I just celebrated my last birthday as a single girl, and soon I'll celebrate my first birthday as a missus! And if there are girls out there who don't have a dream ring or wedding – don't fret. You don't need to have one to experience one. It'll be much fun, trust me.